We offer premium materials for wooden shutters at affordable prices. The materials used to make our sustainable wooden shutters include a large range of wood: paulownia, cedar and radiata pine. Each of these materials for bespoke wooden shutters offers certain benefits and unique looks made to fit your home.
Nothing looks as elegant as classic Wooden Shutters.
You can see the splendour in the fine wooden finish of the shutter blinds, brought to life by the beautiful paint or stain you choose. Due to their striking appearance and top craftsmanship, it is no wonder that wooden shutter blinds are part of their class, adding the necessary intimacy and that air of elegance to any window.
Fabulous investment in your home, wooden shutters are an optimal choice for contemporary design and the versatility of the space.
All wooden shutters are handmade from the strongest and densest species of hardwoods known to man, created for those who only ask what money they can buy and will be satisfied with nothing less than elegance, refinement and remarkable efficiency in their homes.
Wooden shutters are hand-built by craftsmen with years of experience in using the finest hardwood essences to create window shutters that are truly a masterpiece of craftsmanship, in perfect harmony with the new space.
Our craftsmen happily design wooden shutter blinds using mortar and tenon joints, which are the strongest for any type of carpentry. The resulting wooden shutter blinds have unmatched strength and stability of any rival of the blinds plantation.
The sustainable wood used to build the window shutters has been responsibly harvested from well-managed forests, which are continuously fed and ensure that there is no damage to the environment.
Everything about your wooden shutters can be customised according to your preferences, choice of movement, colour, shape, hardware and finish.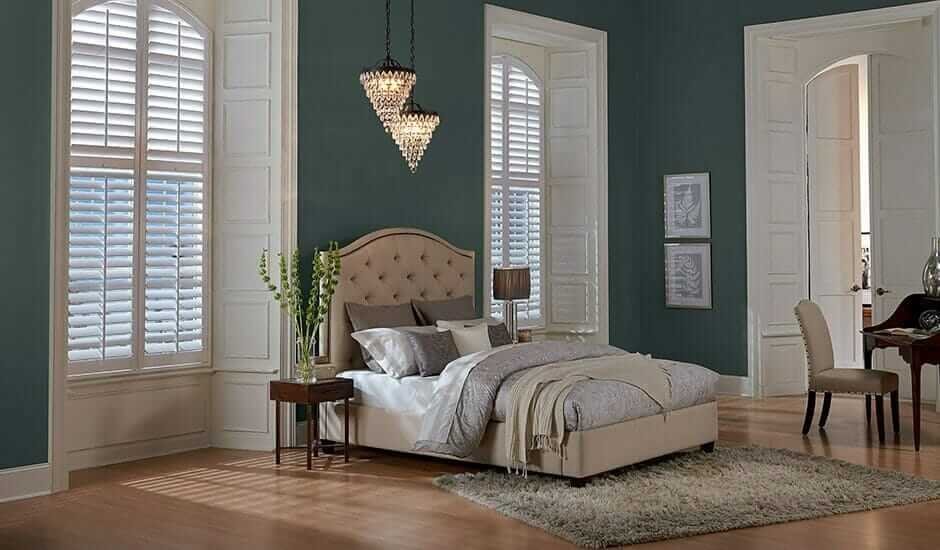 Classic Basswood Shutters
We choose to use basewood species for our wooden shutter blinds projects. At first glance, Paulownia looks like any other, aesthetically, but it is different.
Every material used to create the wooden shutter designs for you is analyzed and well thought out.
Our shutter designs team thinks about the effect on the environment, the quality of the materials, the comfort of assembly, the aesthetics and the materials' cost for all wooden shutters.
So why did we choose to use Paulownia wood? Here are some reasons that will shed light on the genius of our shutters design team!
It's incredibly easy – In our minds, weight is an essential aspect of the window shutters we usually go through. We appreciate the ease. Paulownia wooden shutter allows us to offer a heavy industrial look with a much lower weight. Paulownia is an attractive alternative to heavier forests.
It has unique properties – Solid wood must be treated with care and respect. Paulownia was officially considered aluminum wood because it is lighter than the strongest wood species in the world. It is naturally resistant to fire, termites and rot! All these amazing natural attributes make Paulownia a phenomenal addition to our line of wooden shutters!
With an attractive look, Paulownia is not only practical but also looks good! In choosing Paulownia, our design team managed to achieve our distinctive look and style with a perfect finish, while applying a variety of shades, designed to capture the beauty of nature in all its forms.
It is very durable – Our main mission is to produce the highest quality wooden shutters, environmentally friendly and affordable. Besides, we are committed to supporting the planting of trees in areas with severe deforestation anywhere in the world. We manage with responsibility this through projects with various partners, which ensure life-giving reforestation.